The End of Summer Beer List
We are coming to the end of summer beer season. I bet fall beers are already trickling into your neighborhood bars. Oktoberfest and Halloween will be here before we know it. Before we replace the summer taps with the pumpkin taps, let's look at what beers should be taken advantage of now. This isn't a rankings list, just some beers that deserve attention before they go into hibernation.
RJ Rocker's Son of a Peach
Good bye Son of a Peach.
RJ Rocker's describes their beer as an unfiltered American wheat ale made with real mean peaches. The only thing missing is the fuzz. Savor the anger.
We will see you again in the late spring my friend!
Schofferhofer Grapefruit
Looking to drink a lot of summer beer before it ends? This one is only 2.5%, so you can drink up.
Sparkling smooth Schöfferhofer Hefeweizen beer mixed with grapefruit juice. A new taste sensation bundled with lots of flavor and fun. The world's first unfiltered hefeweizen grapefruit mix only contains 2.5 % alc./vol. and is ideal for any drinking occasion.
River Horse Summer Blonde
See ya summer blonde!
River Horse calls this beer a light, refreshing Ale that is easy to drink yet complex. Perfect for the warmer months.
Continue to enjoy this ale until the end of August.
Cricket Hill Jersey Summer Breakfast Ale
It's been real Jersey Summer Breakfast Ale.
Brewed with the best quality malts and fermented with a traditional Belgian yeast that imparts a tangy fruit and clove taste. This ale is as at home with bacon and eggs as it is with your backyard barbecue. The Abbey Monks would love this beer!
Steven's Point Nude Beach
Our office safe search kept blocking this guy on Google, but I finally got the picture! Such a nice looking can.
Point Nude Beach is the perfect summer pleasure. Available only during the warm months of summer, this lively and unfiltered wheat ale is well balanced using "au naturel" raw and red wheat, then delicately finished with Yakima hops. With a refreshing light flavor, Point Nude Beach is perfect while enjoying summer activities or just hanging out with friends. Clothing optional.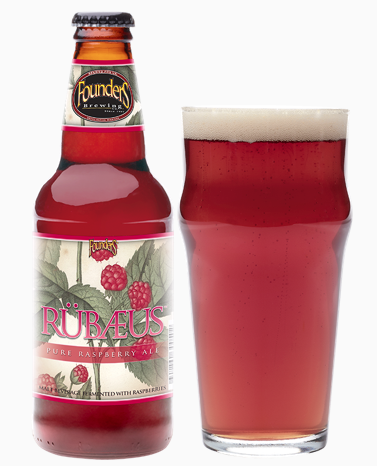 Founders Rubaeus
This beer will be missed deeply. Try mixing with the Founders Porter for a different experience of dark and fruity.
Not another boring summer wheat beer or lemonade shandy—Rübæus is Founders' way to celebrate the season's warmest months. Optimizing the flavor of fresh raspberries added at multiple stages during fermentation, this stunning berry red masterpiece is the perfect balance of sweet and tart. No question about it, with a hefty malt bill and 5.7% ABV, this beer is 100% Founders.
Harpoon UFO Big Squeeze Shandy
Of course, last but not least, the Big Squeeze. Thank you Harpoon for another delicious shandy for our end of summer list.
Sweet with a hint of tartness, UFO Big Squeeze Shandy is perfect for all of your summer adventures!
Summer 2014 came and went too quickly, as usual. Look out for our fall 2014 list. Remember these beers will come back next year, so make some fond memories now so you can experience the nostalgia later.