Gouden Carolus
Belgium
Whether it be the unique taste of our beers, the unforgettable time you spend in our brasserie, or the fine degustation of our brewery whisky, in everything we do, we strive for that authentic and unique taste experience. This is what we have been doing for five successful generations and for plenty more to come.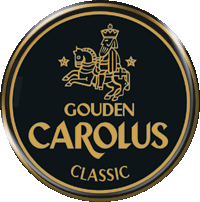 Cuvee Van De Keizer Blauw/Blue
11% Belgian Strong
Every year on the 24th of February, the birthday of "Charles the fifth", the Brewery brews the Gouden Carolus "Cuvee of the Emperor" in a limited quantity and with an eye on the highest quality and tradition. This unique brewing, with only extra fine Belgian hops and with a higher alcohol level, guarantees a better evolution in the time, than the already known Gouden Carolus. This beer, as all our beers, is 100 % natural, with no preservatives, no adjuncts and no chemicals.
Tripel
9% Abbey Tripel
In spite of modern brewing technology, this beer is brewed according to ancient traditions. It unites, now as in the past, the best products of our soil: rich barley and fine hops.. It's refined character, with a pure and rich taste, will captivate you. It is matured at length in cellar and bottle, and is guaranteed to be brewed only from pale malts. It is traditionally top-fermented and is 100% pure. The Gouden Carolus Triple has a unique colour and a full flavour due to its well-balanced hopping. To properly savour the Golden Carolus "Triple", pour slowly in one movement leaving the yeast deposit in the bottle.
Ambrio
8% Belgian Strong
The recipe has its origin in the 14th century. The present version is a little more heavy and contains more hops. The balance between the different malts, the fine hops and typical tastes of spices creates a perfect harmony between the powerful taste of brown beers and the freshness of the blond beers. This fresh aromatic and pithy light-brown drink can be served cool.
Cuvee Van De Keizer Rood/Red
10% Belgian Strong
To celebrate the 10th anniversary of the "Cuvée van de Keizer Blauw", the brewery launched a blond-version : Cuvée van de Keizer Rood. This beer is similar to the previous Gouden Carolus Easter Beer. Blond rich beer that is brewed each year during the easter period. It contains several types of malt and during brewing 3 herbs are added. It's golden blond colour, it's high alcohol concentration of 10 %, it's full and balanced taste make this beer into a source of vitality and strength which will appeal to the demanding beer taster.
Hopsinjoor
8% Dunkel
Origin: Gouden Carolus Hopsinjoor completes the taste pallet of the gamma Carolus-beers. Name: "Hopsinjoor" is a wordplay to for one thing the several hops which were used, and on the other hand the typical character of Mechelen of Gouden Carolus: the figure "opsinjoor" is intertwined with the history of Mechelen
Easter Ale
10.5% Belgian Strong
Gouden Carolus Easter Ale is brewed once a year to commemorate Easter. It is a golden ale that is rich, full bodied and full of flavor and life. This ale was brewed and intended to drink with Easter dinner. This special brew may be laid down, it will increase in complexity and balance as years pass. Gouden Carolus Easter Ale is the most limited production brew from the Het Anker brewery. Only 2000 cases are brewed each year.