St. Feuillien
Le Rœulx, Belgium
Founded in 1873 and named after Foylan, a 7th century Irish Monk, this brewery is operated by the Friart family. St. Feuillien boasts one of the most beautiful, artisanal and original breweries in all of Belgium. It's old-fashioned design uses gravity, not pumps, to transfer beer before and after fermentation. Secondary fermentation at a very low temperature for up to 6 weeks gives all St. Feuillien beers a fine, sophisticated and delicious flavor. Beer this good takes time.
Green Flash Belgian Coast IPA
7.5% ABV, IPA
St. Feuillien has teamed up with Green Flash Brewing Company to bring you this masterpiece. Brewed with 7 different hops, including Amarillo, Mosaic and Galaxy. Like most St. Fueillien beers, it's dry and elegant and delicious and evocative of American West Coast IPA's without trying to be a copy of those fine beers.
La Blanche
6.3% ABV, Belgian White
Blend Belgian Wit and Abbey Tripel together and the result is a relatively strong, fully aromatic and wonderfully complex beer. It has the fine almost minty herbal character of St. Feuillien Tripel with a luxuriously full-body.
Blonde
7.5% ABV, Belgian Strong Ale
A refined, honey-ish treat. This light ale has a deep golden color with a smooth, frothy head. It is very perfumed with an unmistakable hint of aromatic hops and a fruity (citrus) note from the spices used in production. The subtle yet distinctive bitterness and a strong malty taste is a delight to the palate.
Brune
8.5% ABV, Abbey Dubbel
A rich, dark brown ale, new reformulated to a higher standard and bottle conditioned for maximum flavor and shelf life. Deep russet in color with a light tan foam. On the palate, St. Feuillien Brune is slightly sweet and malty with a finish that is surprisingly firm and dry.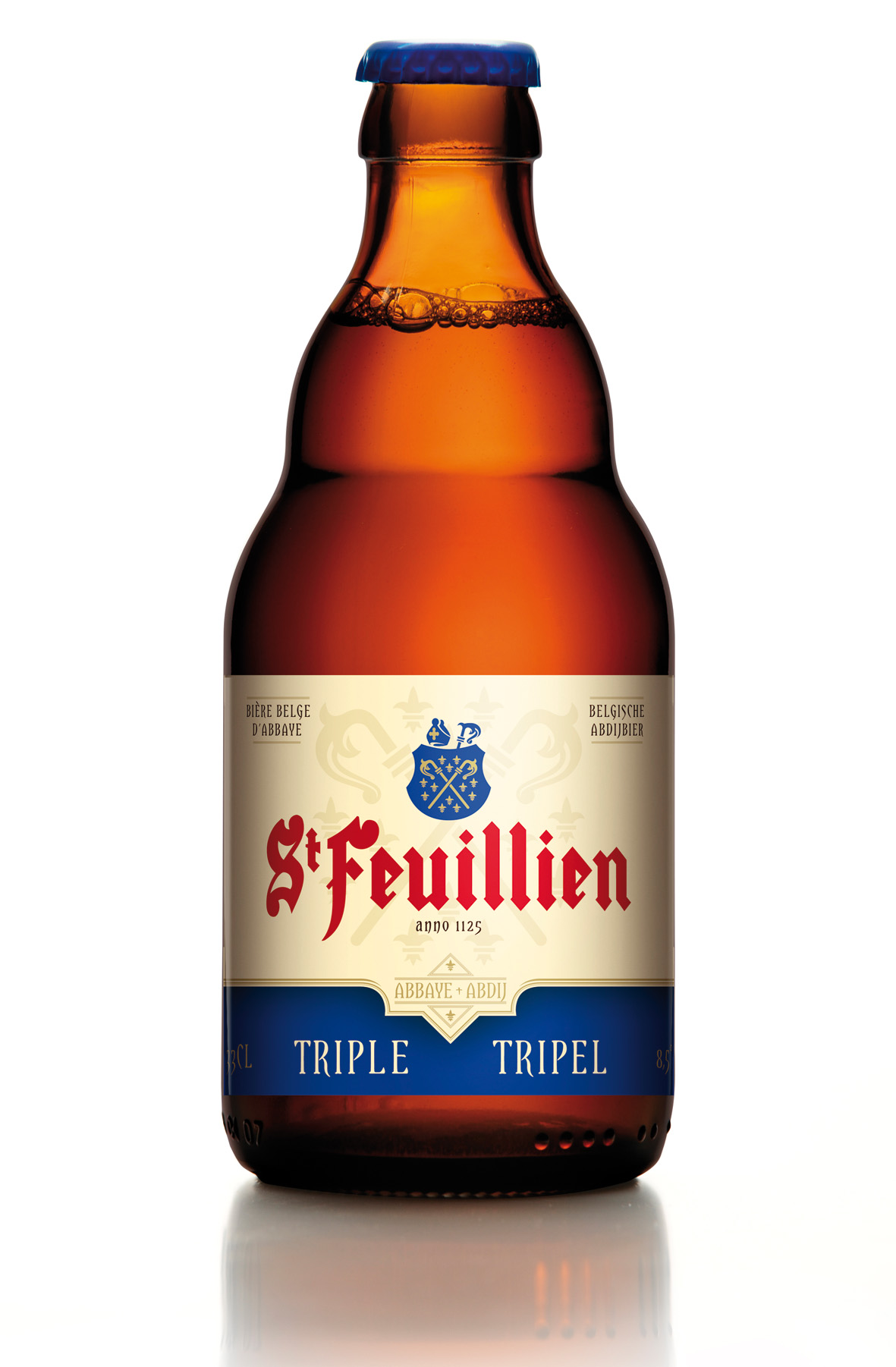 Tripel
8.5% ABV, Abbey Tripel
A dry, hoppy tripel sparkling in orangish-golden color with a brilliant white foam. Highly aromatic with vivid hop resins leaping out of the glass. The flavor is bright, leanly malty, spicy and hoppy. A generous amount of carbonation makes for a full mouthfeel as well as mountains of pillowy foam.
Grand Cru
9.5% ABV, Belgian Strong Pale Ale
A symphony of aromas and flavors. Full, dense, white head of foam, lacy and beautiful. Very pale in color, brilliantly bright and appetizingly pale golden, Grand Cru has a delicate nose full of subtle hops and fruit with a backdrop of malt and honey. Very dry on the palate, firm in body and well attenuated with a pleasant fruity bitterness and wonderful toasted malt character.
Saison
6.5% ABV, Saison Farmhouse Ale
A traditional farmhouse ale with all the rich flavors of the fertile land of southern Belgium. Originated as a beer made by and for farmers. Thirst quenching, not too strong, and great with food. The Belgians call it a "beer of the terroir".
Speciale
9.0% ABV, Belgian Strong Dark Ale
The pinnacle of the brewing art at St. Feuillien. Brewed in the middle of the year, aged for a minimum of 6 weeks in cold tanks and then bottle conditioned in the warm room for 2 more weeks. The result is a beer that has clean, delicious flavor and a beautiful, elegant condition. Carbonation is fine, the foam collar is creamy.